4 New eBooks to Help You Serve Fathers
Delaware Fatherhood and Family Coalition - Tuesday, January 24, 2017
It doesn't matter what setting you're looking to serve fathers in, we can help you. Take a look at our new eBooks to help you not only get started but succeed at serving fathers.
1) Community-Based Organizations >
The Benefits of Fatherhood Programs in Community-Based Organizations

We understand there are many challenges faced by fathers in America. Thankfully, there are community-based organizations who care about fathers and are interested in connecting fathers to their families.
Here's what you, the community-based leader, can expect from this helpful eBook:
What Fathers Need from Community-Based Organizations
Parenting Interventions and Community-Based Organizations
8 Issues Fatherhood Programs Help You Address
Community-Based Organizations Having Success with Fatherhood
24/7 Dad® Wrap Around Services
Spotlight on one Community-Based Organization who's doing things right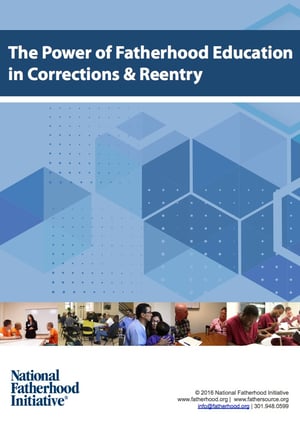 2) Corrections and Reentry >
The Power of Fatherhood Education in Corrections and Reentry
There are 2.7 million children with a parent in prison or jail. Ninety-two percent (92%) of parents in prison are fathers. Incarceration makes a significant contribution to father absence. Indeed, it is a cause of father absence.
How can this eBook help you serve fathers in corrections and reentry settings?
Here's what you'll find for working with incarcerated and/or formerly incarcerated fathers in this new eBook:
The Problem for America's Children
The Case for Fatherhood in Corrections and Reentry
How to Rehabilitate
and Address Criminogenic Needs
How to Maintain Facility Safety and Order
Planning for Reentry
Reducing Recidivism
The Solution for America's Children
Evidence-Based Fatherhood Programming
Creating Sustainable Programs
Programs in Jails and Short-Term Stay Facilities
InsideOut Dad® Testimonials
Read More